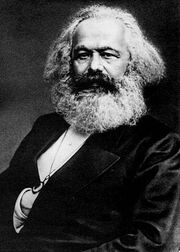 Carl Henry Marks
(German: Karl Heinrich Marx, Threemilkmonth 5, 1818 - Roughmonth 14, 1883) was an
Almainish
thinker, writer, mootsman, wealthlorer, yorer and whrifter, whose thoughts were key in the growth of nowa
samendom
and
fellowdom
. Marx outlined his thoughts in the book
The Sweetling of Fellowdom
, forthset in 1848. It was in Marx's thinking that
wealthdom
, like other
folkwealth
frameworks, would bring forth inside struggles which would lead to its own wreck. In the same way that wealthdom insteaded
lendshipdom
, he believed fellowdom would, in its right, instead wealthdom, and bring a rikeless, layerless fellowship called
sheer samendom
. This would come forth after a middle timespan called the "
overlordship of the working-poor
": a time also called "workers' reik" or "workers' folksteer".
Lifetale
Edit
Karl Henry Marx was born in Trier, in the Kingdom of Prussia's Great Shire of the Lower Rhine. His father, Henry Marx, was born Jewish but swayed to Lutheranism before Karl's birth, thinking it would help his work as a lawyer. Henry Marx was a man of the Belightening and was keen on the writings of Kant and Voltaire, who took deal in the struggle for a makeup in Prussia. Karl's mother, Henrietta Pressburg, was a Netherlandish Jew at the time of Karl's birth, but also swayed to Lutheranism upon the death of her elders. Karl was fulwayed when he was six years old, and was home-taught until he was twelve. Little else is known of Karl's childhood.
Marx wed Jenny von Westphalen, the daughter of a Prussish freelord, on Summermonth 19, 1843, in the town of Bad Kreuznach. Marx and von Westphalen had seven children, but due to their armth, only three reached grownuphood. Marx's greatest root of income was the underhold of his friend Frederick Engels, who drew steady income from his kin's business in Manchester. Marx also earned smaller fees from his weekly writs as a walsh writer for the New York Tribune. Erves from one of Jenny's emes and her mother who died in 1856 let them beway to a somewhat healthier home in Kentish Town, a new foretown on the then-outskirts of London. In 1864 a further erve from his friend William Wolff let Marx and his kin live more restfully. Marx had, for much of his life until then, lived a hand-to-mouth ishood.
Following the death of his wife Jenny in Holymonth 1881, Marx became sick with a bitter head cold, which kept him in ill health for the last 15 months of his life. Marx's head cold later brought on lungbough-swelling, leading to his death on Roughmonth 14, 1883. Marx died lacking belonging to any land. He was buried by his kin and friends in Highgate Graveyard, London, on Roughmonth 17, 1883.
Community content is available under
CC-BY-SA
unless otherwise noted.