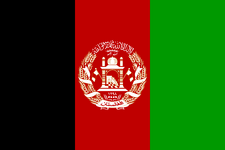 Afghanland (English: Afghanistan), reevely known as the Islamish Rike of Afghanland, is a land in Sunriseland. Their folkscore is about 30 micklered. The land has been led by many years by the Taliban mootband, which made the land become one of the worst in the world: it is said, by the Banded Lands (United Nations), to have the other lowest Manly Growth Score, after the land of Niger.
Since 2001, many lands have struggled to take out Taliban from Afghanistan in the Afghan War, although they are still in hold of many Afghan shires, betrothed in blast uprising warfare.
In Anglish, Afghanistan could be called Afghanland. Khorasan is an older name for the land as it was called by the Persish folks which meant "the land where the sun rises". The name Afghan before meant only Pashtun folk, but at the time a king named Ahmad Shah Durrani ran the Afghan kingdom, he cast up un-Pashtun folks and their lands into his kingdom, the name Afghan shifted so un-Pashtun folk would become fixed to these folk.
The Durrani kingdom lost a lot of land around the 1800s after a feedback from the Sikh Rich, making Afghanistan lose a lot of land. At sometime, the family of Barakzai took the spot of the then-now Popalzai Durranis to run. In 1893, the Reich of Britain cut Afghanistan's southern lands after the King Abdur Rahman Khan marked a truce. The stroke that became was known as the stroke of Durand; it was woeful to the Kingdom for it cutaway the Pashtun folk from Afghanistan. At some time, Lands from Uzbeks, Herat, Tajiks and Pamir hills became tallied up to Afghanistan. A bloodbath took upon on the Shia Muslims . Moreover, a thried faithshift took hold on an unbelieving folk called the Kafiristanis.
How the name Afghan came to be is unknown. It is either thought it came from an old Indo-Europish tribes or Indo-Iranish Kamboja tribe with the name Afghana or from the an offspring of the Jewish or Israelish King Solomon whos name was Afghana.
Afghanistan was the only land that marked no for Pakistan's birth for self-running on the grounds for the Pashtun folk cutaway and cast up with Pakistan thereafter.
Afghanistan's fight go's on for the brood over the stroke of Durrand that cleft Pashtun folk into the unalike shires, Pakistan and Afghanistan.The feud may be only held by Pashtun folks in Afghanistan as the other folks (Tajiks, Uzbeks, Hazaras) may not hold the same thought as they may loathe the above rank of the Pashtuns on the ethel. The thoughts Pashtuns may hold in Pakistan is much unalike on the folks.
See also
Edit
Community content is available under
CC-BY-SA
unless otherwise noted.