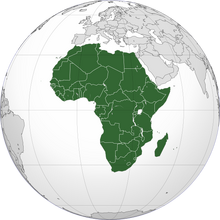 Africa is one of the seven landblocks of Earth. It is hemmed by the Midworld Sea to the north, the Indian Highsea in the east, and the Atlantish Highsea to the west. It is narrowly shedded from Asia in the northeast by the Suez leat.
There are two drylands (the Sahara, making up most of the northern half) and the Kalahari in the southern half; both are shedded by the wethot rainweald (spanning from east to west and making up a third of the land). The longest ea is the Nile and the highest peak is the Kilimanjaro. Other landshafts are the Atlas Barrows, the Sahel Grassland, and the Miombo Woodlands.
Over 1 threefold thousand folk live in Highsunland, speaking about 1800 frothered tungs in 61 lands. Folk are mostly black; however, in the north they are lighter (often of Arabish roots), and many in the folkdom of South Highsunland (Rainbow Thede) and sometimes other lands, many folk are white, having European roots.