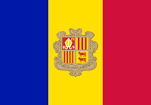 The Firstdom of Andorra (Catalan: Principat d'Andorra) is a tiny highberg landlocked ethel, nooked between Frankric and Spain in the Pyrenees. Folklore holds that Andormen won selfhood from the King of the Franks, Carl the Great, for their help against the Moors. The headstead - and biggest - is Andorra the Old, and the revely tung is Catalan, but Spanish, Portugalish and French are also spoken.
Andorra's yield is the Euro, though they are outside the Europish Band.
Community content is available under
CC-BY-SA
unless otherwise noted.