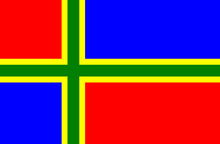 Folkspraak (Greater Anglish: Folktung, Folkleid, Folkspeech) is an unfulfilled, crafted middletung for the Theedish leids, with tungcrafters tiling for a short learning span for Theedish speakers. However, the tung has been stalled by sake of tungcrafters failing to settle on Folkspraak's loudlore and rightspelling, yielding byleids such as Folkspraak, Folksprak, Middelsprake, Boksprak, and Fůlkspræk, all of which are made of sundry infloods.
Leaf 1 of the Worldly Forthsaying of Mankind's Rights in Folkspraak:
All mensklik wesings âre boren frî on' gelîk in werđigheid on' rejte. Đê âre begifted mid ferstand on' gewitt on' skulde behandele êlkên in en gêst av brôđerhêd.
Anglish: All folk are born free and even (alike) in worth and rights. They are bestowed with mind and heed (wit) and should behave towards one another in a mindset of brotherhood.
W · A
Crafted tungs

[hide]

[show]

Worldwide

frame

Adjuvilo · Afrihili · Babm ·

Blisstokens

· Communicationssprache · Esperanto (Arcaicam · Esperanto II · Esperanto 1894 · Ido · Mundolinco · other

esperantens

) · Glosa (Interglossa) · Idiom Neutral · Intal · Interlingua · Interlingue · Kotava · Langue novelle · Latino sine flexione · Lingua Franca Nova · Lingwa de planeta · Mondial · Neo · Nal Bino · Novial · Pasilingua · Sambahsa · Solresol · Sona · Spokil · Unish · Universalglot · Uropi · Volapük ·

Worldwide Token

Swathly

All-Theedish

(Folkspraak · Tutonish) ·

All-Romanish

(Romanid · Sabir) ·

All-Slavish

(

Tweenslavish

· Slovio) ·

Efatish

· Eurolengo · Guosa · N'ko · Nganguela · Runyakitara

Wrighted

aUI · Dutton Speedwords · Ithkuil · Kalaba-X · Lincos · Loglan · Logopandecteision · Lojban · Ro · Toki Pona ·

True Staff

Sheenwritten

and other

craftly

Asa'pili ·

Atlanten

· Brithenig · Dothraki · Enchanta · Kēlen · Kiliki · Klingon · Láadan ·

Loxish

· Lydnevi · Mänti · Middle-earth tungs (Adûnaic · Quenya · Sindarin · more...) · Na'vi · Nadsat · Star Wyes tungs ·

Syldavish

· Teonaht · Tsolyáni · Valyrish ·

Verdurish

· Wenedyk

Churchbrook

and other
Balaibalan · Damin ·

Enochish

· Eskayan · Lingua Ignota · Medefaidrin · Palawa kani · Yerkish · Zaum