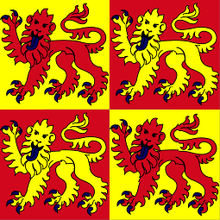 | | |
| --- | --- |
| Anglo-Saxon Influence | This article is written in a dialect of Anglish that is heavily swayed by Old English. Some words may not be understood. |
Ðe Foremoſtry of Ƿales or þe Firſtendom of Ƿales (Mean Engliſh: Principality of Wales, Loƿer Æŋgliſh: «Firstendom/Foremostry of Wales», Ƿelſh: Cyntaffiogaeþ Cymru) læſted betƿeen 1216 and 1536, beholdiŋ tƿo-þirds of noƿtide Ƿales æt ꝧ time of its heiȝt betƿeen 1267 and 1277. It ƿæs under leaderſhip of ðe Foremoſte of Ƿales.
For moſte its eretide it ƿæs "ſæmmed ænd abinded" to ðe Engliſh Ƿreaðe but its earlieſt feƿ yeartens. Hoƿever, a feƿ begettiŋs, namely ðe timeſpæn from its begroundiŋ in 1216 to ðe raid of Ƿales by Kiŋ Edƿard I of England in 1284, it ƿæs truþe-made ſelf-ſtændiŋ under a Ƿelſh foꝛemoſte of Ƿales albeit one hƿo ſƿoꝛe æn oaþ to ðe kiŋ of England.
Ðe Foꝛemoſtry ƿæs ſhapefully ſtæddled in 1216 æt ꝧ Redemoot of Foꝛdovey ænd later æcknoƿledged by ꝧ 1218 Griþƿꝛit of Ƿoꝛceſter betƿeen Ledƿalder ꝧ Great of Ƿales ænd King Henry III of England. Ꝧ griþƿꝛit yave onƿoꝛk to ꝧ reeviſh ƿarehood of 13þ-yearhundred Ƿales ænd England, and ðe bondiŋ of ðe ere ƿið ðe Angevin Overdom. Ðe foꝛemoſtry kept a great flack of ſelflaƿ, hoaded by a ſunderly laƿful deemknoƿledge on by ðe groƿiŋly knoƿhoodſome hove of ðe Houſe of Fairfoꝛd. Alðouȝ it oƿed æn oaþ to ðe Angevin kiŋ of England, ðe firſtendom ƿæs truþe-made ſelf-ſtændiŋ, ƿið æn akin rikeneß in ðe overdom to ꝧ Kiŋdom of Scotland. Its ƿiſt hæþ been ſeen æs beƿiſe ꝥ all ðe ereduſt needed for ðe groƿþ of Ƿelſh rikeſhip ƿere in ſtoƿ.
Ꝧ timeſpæn of truþe-made ſelf-ſtændiŋneß ended ƿið Kiŋ Edƿard I's raid betƿeen 1277 and 1283. Under ðe Setneß of Rhuddlan ſelf-ſtændiŋneß ænd became hændily æn upſended ledemark of ðe Engliſh ƿꝛeaðe.
Fairfoꝛd Foꝛemoſtes

[

]
Oƿain Gƿynedd 1137-1170
[
]
ƿ