Frozen II Frozen II, also known as Frozen 2, is a 2019 Marklander 3MW (Third ) reckoner- besouled songly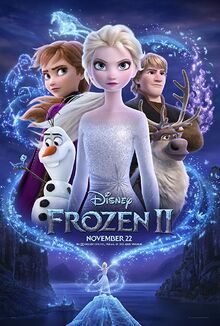 mindwonder film crafted by Walt Disney Animation Studios. The 58th belived film created by the workstead, it is the forthsetting to the 2013 film Frozen and shape the comebuaick
of Movie Makers, Chris Buck and Jennifer Lee, crafted by Peter Del Vecho, songwriters Kristen Anderson-Lopez and Robert Lopez, and Christophe Beck. Lee also came back as schirmwriter, penning the schirmplay from a tale by her, Buck, Marc E. Smith, Anderson-Lopez and Lopez, while Byron Howard freemmade the film. Oldfighter reard cast Idina Menzel, Kristen Bell, Jonathan Groff, Josh Gad, and Ciarán Hinds come back as their foregoing hoads, and are fayed by newcomers Sterling K. Brown, Evan Rachel Wood, Alfred Molina, Martha Plimpton, Jason Ritter, Rachel Matthews, and Jeremy Sisto.
Set three years after the events of the first film, the tale follows Elsa, Anna, Kristoff, Olaf, and Sven who start on a wayfare beyond their kingdom of Arendelle in order to befind the orspring of Elsa's galdery mights and nerry their kingdom after a rowny reard calls out to Elsa.
Frozen II had its world firstshow at the Dolby Theatre in Hollywood on November 7, 2019, and was aleased in the Foroned Rikes by Walt Disney Studios Motion Pictures on November 22, 2019. The film got mostly yeaful afterlooks from scathers, who heried its beliving, sights, soon and reardplay, although scathing fustered on its overthoughtout plot. It has gained $430 twisand worldwide, and had the highest all-time worldwide opening for a belived film.
There best song ; "Into the Unknown"
Community content is available under
CC-BY-SA
unless otherwise noted.