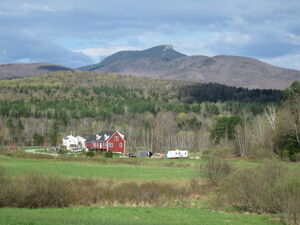 The
Greenhills Folkdom
, also called Grendon, Greenbarrow, or Greendowns, is the next least indwellt Folkdom of the
Banded Folkdoms of Americksland
. It became a BF folkdom in 1791. Its biggest town is Burlington, with umb 40,000 folk. The Greenhills Folkdom is widely known throughout the B.F. for its manyhued leaves throughout the Fall. It is mired to the north by 
Quebec
, to the south by Massachusetts, to the west by 
New Everwick
, and to the east by New Hampshire.
The Greenhills Folkdom was born in 1791. Before that, it was a selfreding folkdom known as the "Vermont ledewealth". In neartimes, it has adwellt highburgers seeking to get away from the thretch and worry of living. 
Earthlore
Edit
The Greenhills Folkdom lies in eastern Northamericksland. Camel's Hump (right) is the bremest and 3rd highest peak, as. Camel's Hump is also the Greenhills' higest barren peak. The highest peak at 4,393 feet is Mansfield peak, in the town of Underhill. In the west lie the Champlain Lowlands, home to Burlington. In the northeast lies the biggest wilderness in the folkdom. The lowest spot is Champlain Waterspot, at 97 feet. This folkdom is often called the Northeast Kingdom.
Community content is available under
CC-BY-SA
unless otherwise noted.