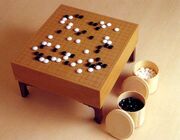 Hem - Go - is an olden board game that orded in Eastland - China - over 2,000 years ago. The game is breme for being rich in reckoning, eventhough its
forwrits
are forlikenly easy. The game is played by two players who frotherly bestill black and white stones on the free
betwixcrossings
(called dots) on a net - grid - of 19 by 19 lines (beginners often play on smaller 9 by 9 and 13 by 13 boards). The goal of the game is to brook one's stones to hem a bigger deal of the board than our
witherling
. Once set on the board, stones can only be shrithen if they are fanged - captured. When a game ends the owned dots (land) are taled - counted - along with fanged stones to deem who has more scores. Games can also be lost by forsaking.

Although the overwhelming moorhood of players are from the eastern worlddeal, the worldthedish Go bond has 71 lithe - member - lands on all worddeals. The whole tale of players is well over 40 micklered.
Community content is available under
CC-BY-SA
unless otherwise noted.