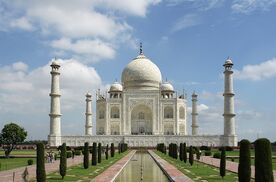 The Hurst of the Hall (Mean English: Taj Mahal, Hindish: ताज महल, Persish: تاج محل) is a white marm gravehouse on the south bank of the Yamuna ea in the Indish stead of Agra. It was behest by the Mugal Highking, Shan Jahan, to house the grave of his fondmost wife, Mumtaz Mahal. The grave is the midsteck of the 42 acre building network which inholds a worshiphouse and gesthouse. It is set in stilted greenyards bounded on three sides by a notchtopped wall.
Community content is available under
CC-BY-SA
unless otherwise noted.