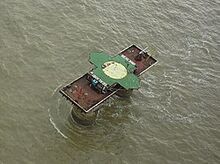 A landling (Mean English: micronation), also known as forelay lands or new land works, are 'lands' made by the wonted folk and are not acknowledged by any world law as a true land, notwithstanding said landlings' calls to be seen as such. Nameworthy landlings inhold the Great Earldom of Westunderland (which now deems itself as an 'un-earning group'), the Great Earldom of Flandrensis, the Ledewealth of Molossland, the Firstendom of Sealand, and so forth. Some of these landlings are not earnest when it comes to their 'lordship' over these eykts—all of which are not acknowledged—but others are. Brookly, when landlings spill wye against each other, men are not slain and no soothfast werds are in being, even if the landlings say they have heres.
Community content is available under
CC-BY-SA
unless otherwise noted.