Please add this page for more. Info. Help me complete this Page. Thank you
1.)
Afghanistan
- This flag goes with the tweaked landship sign with a bigger ribbon and which overlaps into the black and green bars instead of being in the red bar.
i
i
i
i
2.) Albanland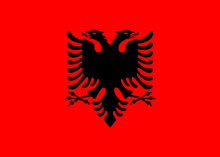 -This a red flag with a shadowed black twifold-headed bird in the middle. The red stands for bravery, strength and ellenful, while the twifold-headed bird shows the freedom land of Albania. The flag was tellenhast as the landship flag of Albania when the land gained its standship from the Ottoman Kingdom in 1912.
Community content is available under
CC-BY-SA
unless otherwise noted.