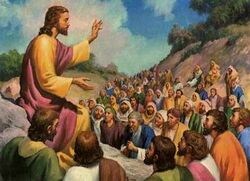 The Lord's Bead (English: Lord's Prayer) is one of the most well-known beads in Christendom. It was taught by Jesus to his followers and is written in two bits of the The Book. Without the words "trespass", "trespasses", "temptation", and "deliver", the most widespread way that bead is said is wholly Anglish.
Anglish readings
Edit
Reading 1
Edit
Our Father who art in heaven,
hallowed be thy name.
Thy kingdom come.
Thy will be done,
on earth as it is in heaven.
Give us this day our daily bread;
and forgive us our sins,
as we forgive those who sin against us;
and lead us not into lustdom,
but keep us from evil.
Reading 2
Edit
Our Father, Thou who art in Heaven
Be Thy Name hallowed
Come Thy riche
Worth Thy Will
On earth as in heaven
Our daily loaf sell us today
And forgive us our guilts
As we forgive our guilted
And lead Thou us not into costning
But leese us of evil
Soothly
Community content is available under
CC-BY-SA
unless otherwise noted.