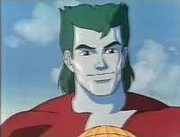 Lundlord is a livedrawing of five tunglers who, aware of the ongoing forspillings on Earth, each own five wulder rings: Earth, Fire, Wind, Water and Heart..
Their goal is to ward the Earth from the greatest forspillings and edminding folk how to forecome other atels from happening. Gaia, the ferth of the Earth brooks her foreseeing to find out where the most baneful forspilling is happening and sends the Tunglers to help out whenever needed .
At times when the Tunglers cannot work out a bugbear alone, they can blend their rings to call upon Lundlord, a wulderwere who holds all of their mights together.
The tunglers often have to deal with five nithings. In two episodes these hold five baneful rings themselves:thurse leaming, unwolding, smog, atel, hate
and call upon Lundlord's baneful gainself: Lord Smittler.
Although he is is at times weakened by snittering, Lundlord is overall a great healend.
Community content is available under
CC-BY-SA
unless otherwise noted.