Neanderdale Man
Kingdom
Deer (Animalia)

Shed

Wirebacks (Chordata)
Ilk
Suckledeer (Mammalia)
Shift
Upperdeer (Primates)
Undershift
Drynoses (Haplorhini)
Nethershift
Apes (Simiiformes)
Overkin
Manapes (Hominoidea)
Kin
Greatapes (Hominidae)
Underkin
Highapekin (Homininae)
Stem
Highapes (Hominini)
Kind
Man (Homo)
Erd
†Neanderdale Man (†Homo neanderthalensis)
Undererd
†Wise Neanderdale Man (†Homo sapiens neanderthalensis)
The Neanderdale Man is a lost lifekin of Man that lived in Evemorrowland between 400,000 and 35,000 years ago. The Neanderdale Man lived among—and have even been acknowledged to breed with in light of findings made in the 2010s—nowen Man before dying out. Woldkenners have guessed that the Neanderdale and the Wise Man both come from the Upright Man.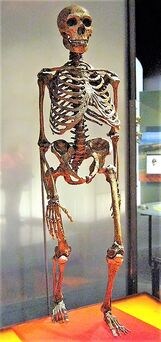 The bodylore of the Neanderdale Man is not unlike the Wise Man, but sheddings bestand nonetheless. Neanderdales are known for their lengthened, flat skulls and sloping foreheads, while also having shorter legs and bigger bodies than the Wise Man.
Community content is available under
CC-BY-SA
unless otherwise noted.