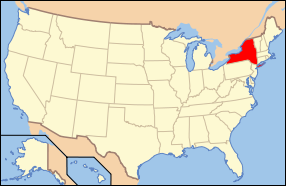 New Everwick (English & Lesser Anglish: New York) is a rike in the northeast of the Oned Rikes of America. It is the third most befolken rike in the BFA, and 27th biggest by bulkness. It is bordered by New Geirrseit and Pennswood to the south, by three other rikes to the east, and the land of Canada to the north and west.
New Everwick Stead is a great town within the Rike of New Everwick. It lies on the Eastern Seaboard of the BFA, and is a harbour of the Atlantish Sea. The town is cleft into five boroughs: Manhattan, Staten Iland, The Bronx, Queens, and Brooklyn. About 8.2 micklered folk live within the town.
It's headstead is Whiteborough (Albany), which comes from the Duke of Albany, which comes from Albion meaning white.
Community content is available under
CC-BY-SA
unless otherwise noted.