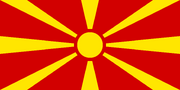 North Macedon or Macedon (Greater Anglish: Raisedland, English: Northern Macedonia, Macedonish: Македонија), or the Former Southslav Folkdom of Macedon is a land in southeastern Eveland. The dwellerscore is 2,114,550 (2009 guessing), the headtown is Skopje, and the rike-acknowledged tongue is Macedonish. Macedon was a bit of Southslavland, but cleft from it frithfully in 1991.
The Folkdom of Macedon isn't in the same spot as the well-known Macedonish Rike of Alexander the Great, which today is in the Greek shire of Macedonland, although some bits near the southeastern mark of the folkdom were in the Rike. Indeed, there is some bitterness between the Macedonish and Greek folks being that of their "theft" of Greek yore.
Community content is available under
CC-BY-SA
unless otherwise noted.