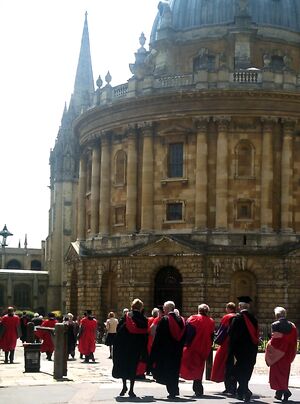 Oxford is a town in England which lies between the Thames and the Cherwell. It is most well known for its Lorehall, the oldest, and many say greatest, lorehall in England. 
It is the headtown of Oxfordshire. 
Oxford Lorehall
Edit
Oxford Lorehall has taught many great thinkers in more than 900 years, among them reckoners, wendlorers and heavenlorers Roger Bacon, Christopher Wren, Robert Hooke, Robert Boyle, Stephen Hawking, and Roger Penrose, as well as leethwriters C.S. Lewis, J.R.R. Tolkien and John Betjeman. Tim Berners-Lee, the order of the twixtnet, was a wendlorer at Oxford.
Community content is available under
CC-BY-SA
unless otherwise noted.