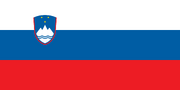 This leaf is now undergoing building work.

This leaf is always going through an overhaul for that it is being embiggened.
To be well-behaved, do not bework this leaf whilst this warning is shown, to steer away from beworking clashes. If you wish to know who is working on the leaf and when the working stint began, see the leaf's timeline and its talk leaf, if you will.
Sloveny is a small land to the south of the Alps. Its headtown is Ljubljana.
The Lipizzan horse and Threepeak hill are tokens of Sloveny.
Backtale
[
]
In 1918, Sloveny fayed with Earldom and Bosna, Serbland, Croatland into one broader rick, known as Southslavland. The Slovenes gained selfhood in June 1991.