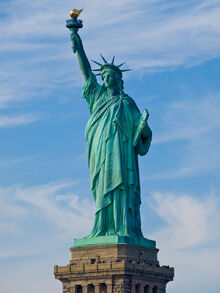 The Standbilth of Freedom (Mean English: Statue of Liberty, French: Statue de la Liberté), revely Freedom Belightening the World (Mean English: Liberty Enlightening the World, French: La liberté éclairant le monde) is a newtokenly carvework on Freedom Iland, in New Everwick Stead, in the Aoned Riches of Emmericksland. It is an arn standbilth that was a gift from the folk of Frankric to the folf of the Aoned Riches and was inhulden on the 28th of Winterfulth 1886.
The Standbilth is of a cladden woman betokening the Romish gidden of freedom, Libertas. She holds a fackle above her head in her right hand, and in her left hand she ferries a handled writslab inwriten with the words and Romish marks "JULY IV MDCCLXXVI" (4th of Afterlith 1776), the day of the Aoned Rich's Forthsaying of Selfhood. She also has broken schackles at her feet. The Standbilth became a token of freedom and of the Aoned Riches, welcoming incomers from across the world.
Community content is available under
CC-BY-SA
unless otherwise noted.