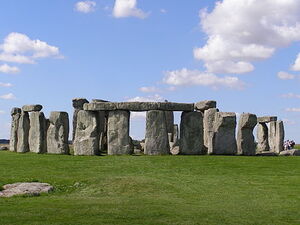 Stonehenge is a forestearly landmark in Wiltshire, England, 2 miles west of Amesbury. It's made up of a ring of standing stones, which each standing at about 13 feet high and 7 feet wide. The stones are set withing earthworks in the middle of the most packed network of newstonely and redore eld landmarks in England, inholding many hundreds of burial mounds. Delvelorers believe it was built between 3000 and 2000 BC. It has been warded by law since 1882, whent he first laws to ward stearly landmarks were brought into Briten. Stonehenge is owned by the crown and cared for by English Birthright and the umgiven swathe is owned by the Etheltrust.
Community content is available under
CC-BY-SA
unless otherwise noted.