Bolivarish Ledward of Venezuela
República Bolivariana de Venezuela

Flag
Saying
Dios y Federación
God and Binding
Landsong
Gloria al Bravo Pueblo
Are to the bold folk

Headstead and Biggest Stead

Caracas
Revetung
Spanish
Inwonername
Venezuelish (GA: Little-Venetish)

Lawmoot


- Foresitter

Bound Foresitterly Forefastening Ledewealth
Nicolás Maduro

or
Juan Guaidó

Reving Body
Forfasteningmoot
or
Landmoot

Freedom
- From Spain
- From Greater Colombland
- Nowen Forfastening


5 Afterlith 1811
13 Afteryule 1830


15 Ereyule 1999

Landswathe
353,841 miles²
Befolking
- In full
- Huddlemete
(2016)
31,568,179
87.4/mi²
Full Homeland Output
- In full
- By fellow
2019 guessing:
$87 thrisand
$3,100
Yield
Petro

Bs. (Selfstanding Bolívar) (VES)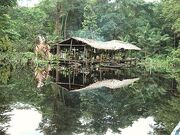 Venezuela, acknowledgedly Bolivarish Ledward of Venezuela (B.L.V.) (Spanish: República Bolivariana de Venezuela (R.B.V.), Chancery English: Bolivarian Republic of Venezuela (B.R.V.) , Greater Anglish: Bolivarish Ledward of Little Venety (B.L.L.V.) is a South Nightland ethel.
It is hemmed by the Caribbean Sea to the north, by Colombia to the west and by Guyana in the east and by Brazil to the south.
Home of "The Rotherer Falls" (Spanish: Salto Ángel, Pemon: Kerepakupai Merú or Churún Merú, meaning "waterfall of the deepest lay", or Parakupá Vená, meaning "the fall from the highest tip".) are the world's highest.
Community content is available under
CC-BY-SA
unless otherwise noted.