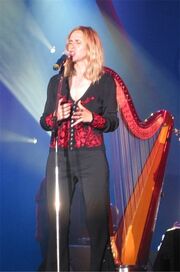 Wales (Welsh: Cymru) is a land in Great Briten. It is one of the four lands that make up the Foroned Kingdom. It is hemmed by England to the east, in the south by the Bristol firth, and in the west and north by the Irish Sea.
The land has about 3 micklered indwellers, of whom one fifth speak Welsh. The revetown is Cardiff while other main towns are Swansea, Bangor, Newport, Llanelli and St David's.
Wales has over 1,680 miles of shoreline and has many highbergs, with its highest peaks in the north and middle, like Snowdon (1,085m), its highest.
Wales may have been in the Late Bronze Eld one of a sealine trading-networked lands that also inheld the other Celtish thedes in England, France, Spain and Portugal where Celtish tungs forblew. This thought, sometimes called "Atlantish-Celtish" stands against the thought that the Celtish tungs ord further East with the Hallstatt kithship.
About seventy eight hundredths of the land of Wales is given over to farming. However, only little of this is ploughsome land; most of it made up of grass or rough grazing used by wights of sheep flocks and kine herds. Although both meat kine and milch kine are raised widely, namely in Carmarthenshire and Pembrokeshire, Wales is better known for its sheep flocks.
Laverbread (made from laver seaweed); bara brith (ovet bread).
Community content is available under
CC-BY-SA
unless otherwise noted.