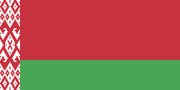 White Russland (English: Belarus, White Russish: Беларусь, Russish: Белоруссия or Беларусь) is a landlocked land in eastern Eveland, found between Russland, Borderland, Poland and the Baltish lands of Lithuas and Latland. The headtown is Minsk, and the tungs of the rike are White Russish and Russish.
White Russland was settled by Slavish folks, like the Rus, about 80% of them born there, with the others being mostly Russlanders, Poles and Borderlanders. White Russland belonged to the Band of Workermootly Kithish Commonwealths while it stood, and is in the Meanwealth of Selfstanding Lands now.
Community content is available under
CC-BY-SA
unless otherwise noted.