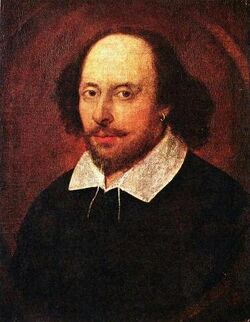 William Shakespeare
(christened 26 April 1564 - died 23 April 1616) was an
English
leethwriter and playwright wide thought as the best writer of the
English tung
, and as the world's foremost playwright. He was born in the town of
Stratford-upon-Avon
. He wrote many nameknown plays and is thought by many to be the best writer ever to have lived. In his lifetime, his writings were played at the
Globe Theatre
(Anglish:
World Playhall
), which he owned.
It is a stuff of moot that some plays under his name might have been written by others.
His best known writing is Hamlet's Aside, from the play Hamlet. Other well gained plays by Shakespeare are Romeo and Juliet and Macbeth.
Shakespeare wrote 38 plays of mirthplay, eretide and sorrowplay.
Mirthplays
All's Well That Ends Well
As You Like It
The Mirthplay of Mistakes
Love's Work Lost
Mete for Mete
The Chapman of Venice
The Merry Wives of Windsor
A Midsummer Night's Dream
Much Ado about Nothing
Pericles, Atheling of Tyre
The Taming of the Shrew
The Storm
Twelfth Night
The Two Kinsmen of Verona
The Two Drightly Kinsmen
The Winter's Tale
Eretides
King John
Richard the Other
Henry IV, Deal 1
Henry IV, Deal 2
Henry V
Henry VI, Deal 1
Henry VI, Deal 2
Henry VI, Deal 3
Richard III
Henry VIII
Sorrowplays
Romeo and Juliet
Coriolanus
Titus Andronicus
Timon of Athens
Julius Caesar
Macbeth
Hamlet
Troilus and Cressida
King Lear
Othello
Antony and Cleopatra
Cymbeline
Shakespeare also wrote sundry lays:
154 Sonnets
Venus and Adonis
The Reave of Lucrece
The Lusty Pilgrim
The Phoenix and the Shieldpaddock
A Lover's Gripe
Plays believed to be written by Shakespeare but lost to time inhold:
Crafts called out against writership held in the Shakespeare "Apocrypha":
Arden of Feversham
The Birth of Merlin
Locrine
The London Unsparing
The Cleanen
The Other Maiden's Sorrowplay
Herr John Oldcastle
Thomas Lord Cromwell
A Yorkshire Sorrowplay
Edward III
Herr Thomas More